Air Quality
AirQo Officially Launches in Uganda!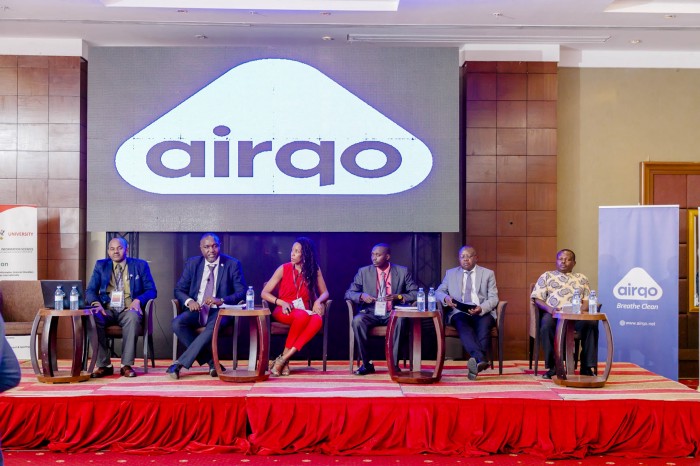 AirQo Officially Launches in Uganda!
On 26th Feb 2020, AirQo officially launched its operations in Uganda at Sheraton Hotel in Kampala. Over 250 guests from key Government institutions, academic establishments, private sector, civil society organisations, foreign and diplomatic missions, and the general public attended the launch.
The event held under the theme 'Know your Air' was aimed at stimulating debate on air quality and highlighting some of the initiatives needed to improve air quality in Uganda.
In his opening remarks, Prof. Engineer Bainomugisha- Project Lead, AirQo pointed out that lack of air quality data to quantify the magnitude and scale of air pollution levels is a big challenge in Uganda and across the African continent. "Without air quality data, decision makers from parents right through to the Government do not have the information to know the extent of the problem, take appropriate action or measure the success of any action," he noted "We believe that the first step in being able to improve air quality is to be able to measure it, know what the current air pollution levels are, its causes and most importantly its consequences to our health and the environment. The AirQo project fills in this gap by creating low-cost air pollution monitoring devices designed to work in the unique contexts of African cities." He said.
Monitoring air quality levels is key in the fight against air pollution. The AirQo research initiative helps improve air quality monitoring and forecasting by applying Artificial Intelligence to data from low-cost sensors installed on static locations and motorcycle taxis (boda boda) around Uganda.
Currently, Kampala is one of the cities with the highest number of air quality monitoring installations in Africa. In the last 6 months, the AirQo monitoring network in the Greater Kampala Metropolitan Area has grown from 15 to 45 installations, and this is in addition to over 20 installations in other parts of the country.
Speaking during the launch, the Minister of ICT and guest of honour Judith Nabakooba noted that the widespread use of ICTs has great potential to accelerate the development of scientific and technological innovation for environmental protections. '"As the way forward we at the Ministry of ICT and National Guidance look forward to collaborating with Makerere University especially the College of Computing and Information Sciences in carrying out research and implementing ICT solutions for national development," she said.
In 2016, the U.S. Embassy in Kampala installed the first air quality standard monitor in Uganda, measuring the presence of fine particulate matter PM 2.5 on an hourly basis. In her remarks, Kim Harrington, the Acting Chargé d'Affaires U.S. Mission Kampala congratulated AirQo on a successful launch and commended it for its excellent use of technology to make a positive contribution towards air quality monitoring in Uganda.
"Measuring air quality in one location at the U.S. Embassy does not tell the whole story of air quality standards in Kampala and Uganda. We are therefore very pleased that Makerere University through AirQo and the Kampala Capital City Authority is taking the initiative to expand air quality monitoring networks to over 80 sensors in Kampala and other urban areas in Uganda. This is an excellent initiative that significantly increases the reach of air quality monitoring in Uganda beyond what the U.S. Mission could do alone." Harrington said.
In his speech, Eng. Andrew Kitaka, the Executive Director, KCCA pointed out unpaved roads, vehicle emissions, open burning of waste, industrial activities and burning of biomass for cooking as the main sources of pollution in the city. Highlighting some interventions that KCCA is putting in place such as; Paving of roads to reduce dust, implementing traffic control measures like signalisation of junctions to improve traffic flow and reduce congestion, putting in place non-motorised routes along all major roads like the Namirembe road to reduce air pollution exposure and through the Pollution Task Force, it's working with industries on cleaner production to reduce pollution. ''In addition to the above interventions, KCCA is now developing a comprehensive air quality management system and deployment of air quality monitoring sensors across the city. Currently 25 monitors have been deployed to measure nitrogen dioxide and particulate matter.''Kitaka further stressed.
Prof. Tonny Oyanna, the Principal of the College of Computing and Information Sciences, Makerere University emphasised the need to develop links between Makerere University, Government, Academia, business, and the community so as to multiply AirQo's potential.
"With a grant from Google to support the AirQo project, we are excited about the excellent progress that AirQo has made in creating baseline data, links to health outcomes and developing the gold standard in the region and beyond. The key question is how to protect these gains and become sustainable when Google funding comes to an end," Oyanna noted.
In his keynote speech, Dr. Bruce Kirenga, a Senior Lecturer Medicine at Makerere University and the Founding Director, Makerere Lung Institute highlighted the health impact of air pollution. " Respiratory irritations such as coughing, wheezing, pneumonia, decreased lung function and growth and cardiovascular illnesses such as strokes, heart disease and hypertension are effects of air pollution,"
During the event, participants engaged in panel discussions focusing on air quality and health challenges, as well as the role of government and different actors in improving air quality.
AirQo works with schools to create awareness on the need for good air quality. So far AirQO has partnered with over 15 schools in Kampala and has grown a network of over 200+ air quality ambassadors. Some of these schools attended the event with pupils from Ambrosoli School and City Parents' school presenting to the guests their thoughts on air pollution, its causes and effects to human health and the environment.
To know the quality of air that you are breathing, download the AirQo mobile app on Google Play Store and Apple store.
Please come and talk to us about how we could work together towards achieving clean air for all African cities.
Connect with us at www.airqo.net, on Facebook @ AirQo and on Twitter @ AirQoProject